Computed tidal data
In this section, the analised tidal data for the last year are shown. The analysis is carried out in a monthly basis. To check the latest tidal available data, follow this link.
Full list, in ASCII format, of high and low tides (UTC time).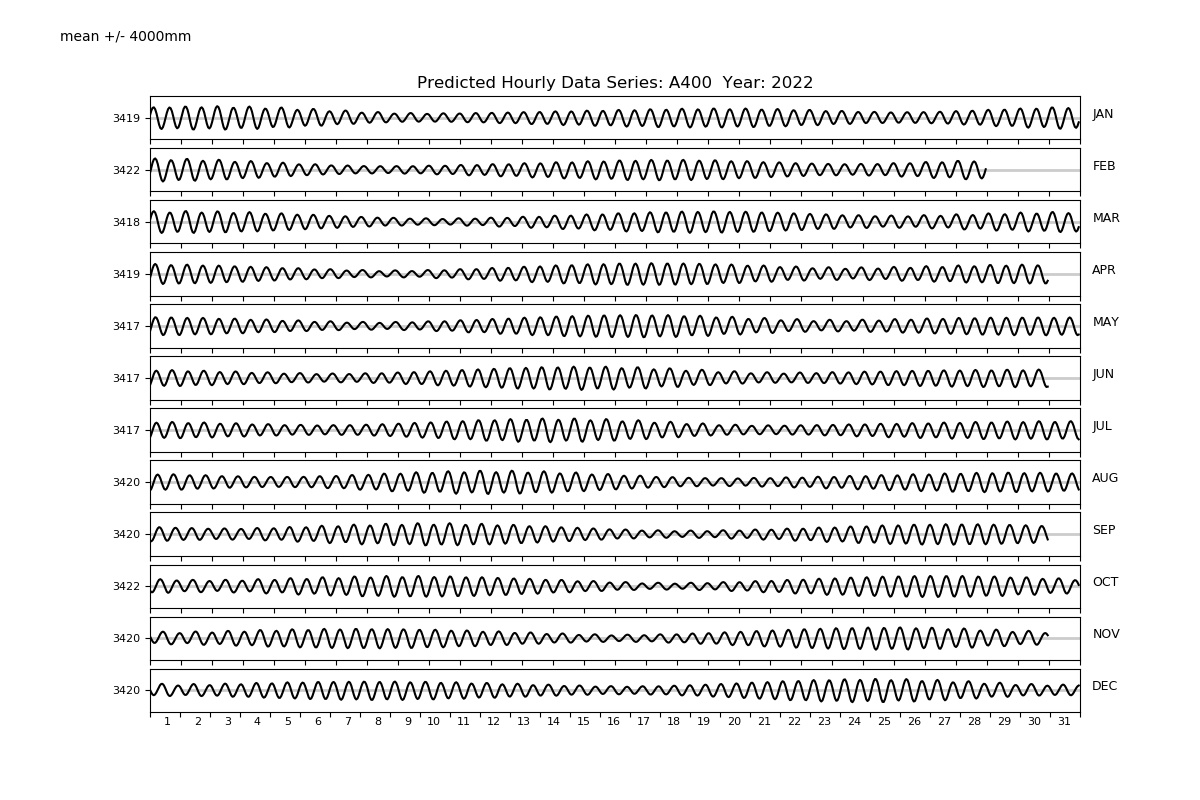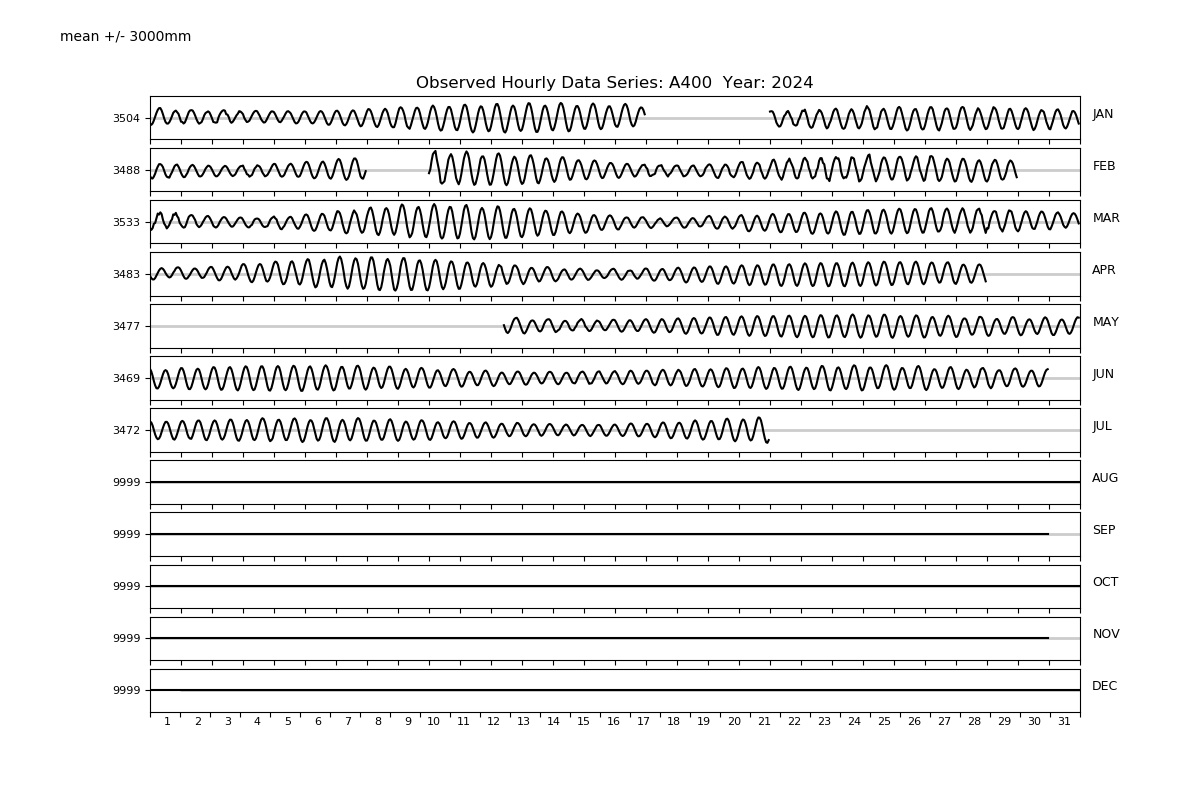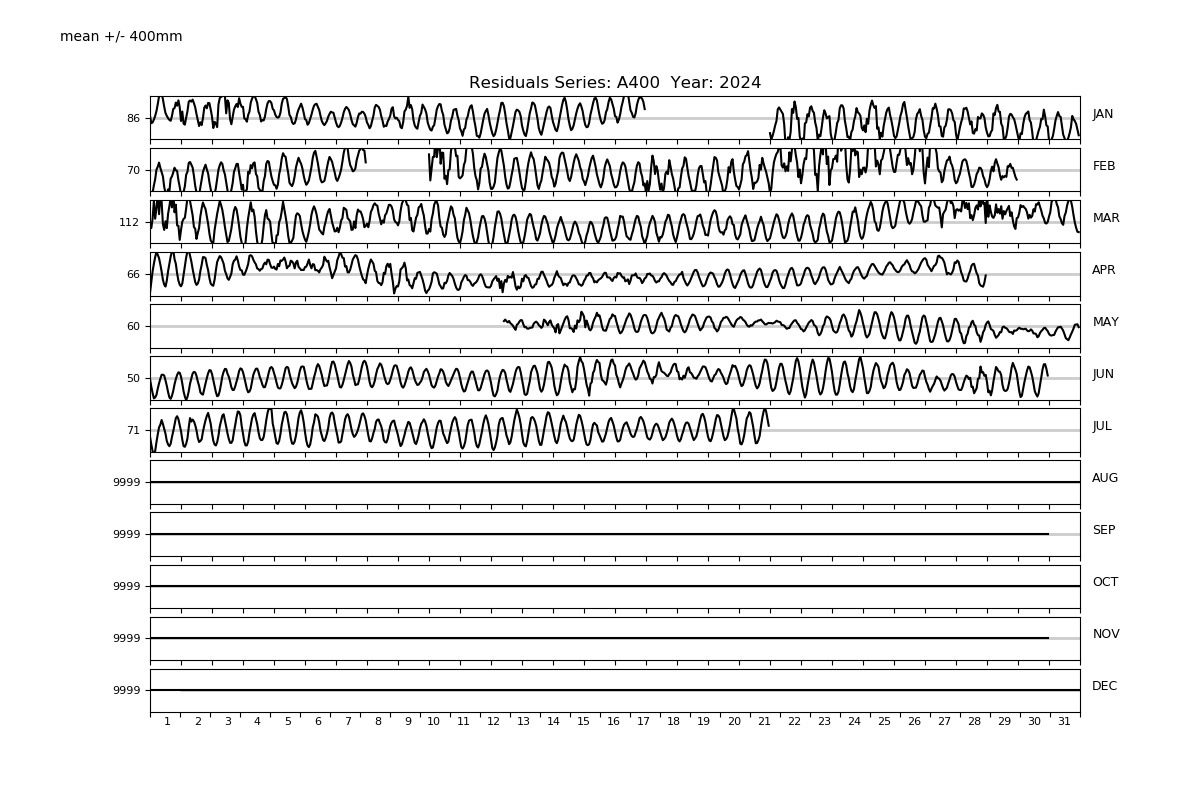 To compute the shown values, the following harmonic constants are used.
 AZTI                  Units in CM
 STATION   00   TIME ZONE =    0, LATITUDE =  4319, LONGITUDE =   156           
 NUMBER OF VALID DATA =  9239  AVERAGE =349.78  STANDARD DEVIATION =105.62      
 THEORETICAL RMS = 10.37  MATRIX CONDITION =  0.86                              
 ANALYSIS OF HOURLY TIDAL HEIGHTS  STN   400     1H  1/ 1/11 TO  24H 20/ 1/12
 NO.OBS.=  9240    NO.PTS.ANAL.=  9240    MIDPT=12H 12/ 7/11  SEPARATION =1.00
  NO NAME    FREQUENCY   STN  M-Y/ M-Y      A       G              AL       GL  
   1 Z0     0.00000000   400  111/ 112349.9403   0.00            349.9403   0.00
   2 SA     0.00011407   400  111/ 112  4.9350 262.84              4.9350  75.93
   3 SSA    0.00022816   400  111/ 112  2.1971  92.11              2.1971 232.03
   4 MSM    0.00130978   400  111/ 112  0.4641  10.67              0.4641 147.45
   5 MM     0.00151215   400  111/ 112  1.3198 266.93              1.3198 208.35
   6 MSF    0.00282193   400  111/ 112  2.1988 193.37              2.1988 271.57
   7 MF     0.00305009   400  111/ 112  0.9776 309.43              0.9776 167.53
   8 ALP1   0.03439657   400  111/ 112  0.0737 230.40              0.0731 165.10
   9 2Q1    0.03570635   400  111/ 112  0.4285 252.22              0.4227 324.66
  10 SIG1   0.03590872   400  111/ 112  0.4408 236.97              0.4367 112.19
  11 Q1     0.03721850   400  111/ 112  2.1074 259.97              2.0871 272.63
  12 RHO1   0.03742087   400  111/ 112  0.3578 272.95              0.3373  90.68
  13 O1     0.03873065   400  111/ 112  7.1722 320.63              7.1291 273.72
  14 TAU1   0.03895881   400  111/ 112  0.1515 300.13              0.1678 210.82
  15 BET1   0.04004043   400  111/ 112  0.0501  31.25              0.0498 302.91
  16 NO1    0.04026859   400  111/ 112  0.7684  16.85              1.0157  47.52
  17 CHI1   0.04047097   400  111/ 112  0.0177 268.53              0.0178  97.61
  18 PI1    0.04143851   400  111/ 112  0.2495  58.07              0.2498 264.57
  19 P1     0.04155259   400  111/ 112  2.0735  53.50              2.0736  72.95
  20 S1     0.04166667   400  111/ 112  1.1083 228.28              0.7747  24.40
  21 K1     0.04178075   400  111/ 112  6.2604  67.24              6.2530  38.26
  22 PSI1   0.04189482   400  111/ 112  0.1514  75.09              0.1511 227.06
  23 PHI1   0.04200891   400  111/ 112  0.0525 110.11              0.0549 231.71
  24 THE1   0.04309053   400  111/ 112  0.1899 196.88              0.1873 301.12
  25 J1     0.04329290   400  111/ 112  0.2257  62.82              0.2206 328.61
  26 SO1    0.04460268   400  111/ 112  0.1422  22.84              0.1413  69.86
  27 OO1    0.04483084   400  111/ 112  0.1128 225.52              0.1233  31.83
  28 UPS1   0.04634299   400  111/ 112  0.1610  87.67              0.1622 191.56
  29 OQ2    0.07597494   400  111/ 112  0.5140  18.46              0.5018 124.45
  30 EPS2   0.07617731   400  111/ 112  1.3446  27.58              1.3145 291.44
  31 2N2    0.07748710   400  111/ 112  4.4229  44.81              4.2790  88.40
  32 MU2    0.07768947   400  111/ 112  4.7319  46.10              4.7243 248.56
  33 N2     0.07899925   400  111/ 112 28.7352  72.70             28.9712  51.08
  34 NU2    0.07920162   400  111/ 112  5.3982  75.41              5.4532 218.00
  35 H1     0.08039733   400  111/ 112  0.5413  64.78              0.5445 349.68
  36 M2     0.08051140   400  111/ 112135.9343  92.74            136.6576  12.29
  37 H2     0.08062547   400  111/ 112  0.2517 112.45              0.2525 206.12
  38 MKS2   0.08073957   400  111/ 112  0.4652 135.26              0.4573 176.55
  39 LDA2   0.08182118   400  111/ 112  1.0762  94.62              1.0839 330.68
  40 L2     0.08202355   400  111/ 112  2.7757  98.72              2.3989 152.32
  41 T2     0.08321926   400  111/ 112  2.6204 119.63              2.6204 306.53
  42 S2     0.08333334   400  111/ 112 47.3195 124.77             47.3078 124.88
  43 R2     0.08344740   400  111/ 112  0.1865 148.46              0.2311 136.90
  44 K2     0.08356149   400  111/ 112 13.0661 122.91             12.7796 244.77
  45 MSN2   0.08484548   400  111/ 112  0.1442  13.74              0.1462 315.02
  46 ETA2   0.08507364   400  111/ 112  0.7660 147.90              0.7240 195.88
  47 MO3    0.11924206   400  111/ 112  0.3447 215.22              0.3445  87.86
  48 M3     0.12076710   400  111/ 112  1.3728 329.55              1.3855  29.09
  49 SO3    0.12206399   400  111/ 112  0.1673  14.34              0.1662 327.54
  50 MK3    0.12229215   400  111/ 112  0.1947 306.86              0.1955 197.43
  51 SK3    0.12511408   400  111/ 112  0.4946  45.05              0.4939  16.18
  52 MN4    0.15951064   400  111/ 112  1.4831 277.60              1.5033 175.53
  53 M4     0.16102280   400  111/ 112  2.9345 328.24              2.9658 167.34
  54 SN4    0.16233259   400  111/ 112  0.3216  52.31              0.3241  30.80
  55 MS4    0.16384473   400  111/ 112  1.0729  33.65              1.0783 313.31
  56 MK4    0.16407290   400  111/ 112  0.3164   1.71              0.3111  43.12
  57 S4     0.16666667   400  111/ 112  0.1525 119.53              0.1525 119.75
  58 SK4    0.16689482   400  111/ 112  0.1557 303.02              0.1522  64.99
  59 2MK5   0.20280355   400  111/ 112  0.0284  38.28              0.0287 208.41
  60 2SK5   0.20844743   400  111/ 112  0.0257 132.39              0.0256 103.63
  61 2MN6   0.24002205   400  111/ 112  0.3361  74.90              0.3424 252.39
  62 M6     0.24153420   400  111/ 112  0.3617 138.59              0.3675 257.24
  63 2MS6   0.24435613   400  111/ 112  0.3606 189.66              0.3644  28.88
  64 2MK6   0.24458429   400  111/ 112  0.1572 174.96              0.1554 135.92
  65 2SM6   0.24717808   400  111/ 112  0.0404 151.95              0.0406  71.73
  66 MSK6   0.24740623   400  111/ 112  0.0299 193.30              0.0294 234.82
  67 3MK7   0.28331494   400  111/ 112  0.0514  34.68              0.0522 124.36
  68 M8     0.32204559   400  111/ 112  0.1882 287.96              0.1922 326.17